Tada! The white dresser! Poor girl needs a generous amount of TLC (don't we all ;o), but that's not going to happen any time soon. :) What I love about her the most are the feet! I think they make the dresser look a little contemporary'ish. The dresser was $30.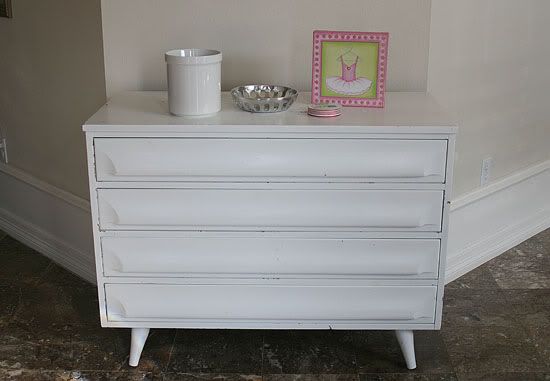 White (brand spankin' new) crock $1.75 (I bought one at Marshall's about a month ago, not as deep as this one, for $12.99 or so)
Heavy silver bowl - $1.00 (suddenly it's looking a little hub cap'ish to me ;o)


Pink ballerina canvas for Mercedes' room - $2.00


New roll of The Container Store striped Christmas ribbon - $1.00
4 or 5 shirts for wees, including a (new) Tommy Hilfiger, Justice, GAP & Arizona
(long sleeve shirts were BOGO so I got one for free)


Total: $50 for everything Ü
After Pine-Sol'ing this girl, I placed her in the front living room. That's likely where she'll stay until I strip & paint her.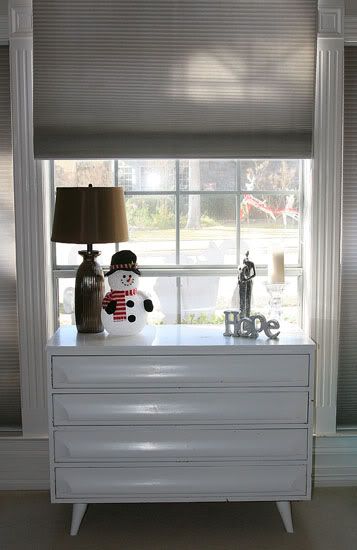 I now have 3 furniture pieces awaiting painting: my $80 Craig's List desk (which is now in the breakfast area, where I originally wanted it, & I/we am using the dickens out of it! Don't know why I even put in the foyer to begin with!), my $11 garage sale nightstand/end table & now white beauty. No refurbishing will even begin until late Jan. or Feb. '11. I'm ok with that. They'll get done when they get done & I'll use 'em in the meantime! I mean really, don't tacky pieces just add character, anyway? :)
Happy Friday! Ü