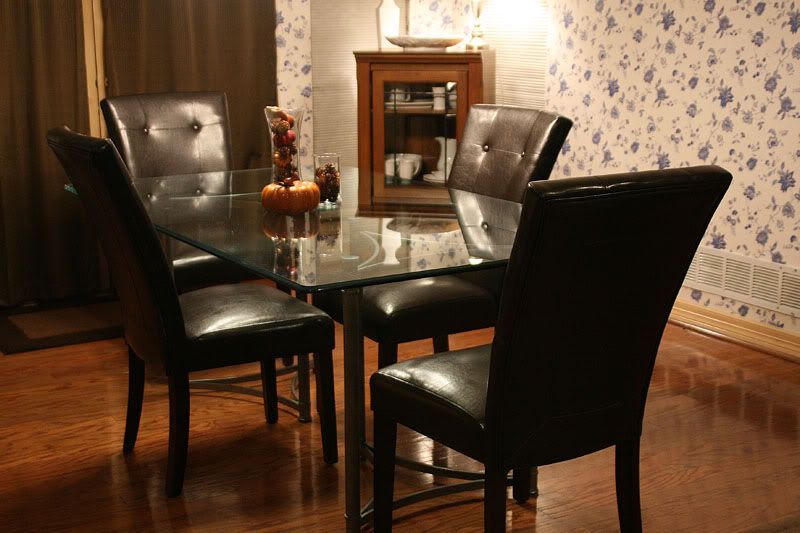 This is what I have been doing for the last 7 nights. Searching on Craig's List for a new kitchen table. Oh. Holy. Cow. It was so time consuming! Thursday night I finally found what I was looking for & the price was divine. :)
I knew I didn't want another wood table. We just have the worst luck with the wood finishes. I'm done with those. Someone recommended formica, but all I could find were Retro tables & my husband didn't like those. So I considered marble. Until I saw one. Glass it is. And with four young children, I was
very
skeptical about purchasing glass. Some glass tables just have one base, which leaves quite a bit of glass hanging off both ends, & I knew that wasn't going to work. So, I found this one with two bases - we were able to separate them enough to where we feel comfortable & should one of our children lean on the table, it's good & secure. Hubby is going tomorrow to find some glass adhesive to adhere the glass to the tops of the bases & we should be good to go. :)
Once the table was home, we discovered we'd lost a base cap between there & here. Ugh. Couldn't find it anywhere. We then discovered the cap is not lost;
they
lost one, & stuck a top one on the bottom. She failed to mention that little tidbit. Grr. So, we are a bit in a pickle, but we'll find something to suffice, I'm sure. Hopefully we'll be able to find something on the internet.
Now I get to purchase 2 more chairs. But the best part? This is an Ashley table. We bought if for - because I'm now a frugal shopper (I try :) I'll share - $245! I'll take a missing cap & a few minor scratches. Ü
*It looks rather small in the photo, but the glass is 71" long! Accommodates 6 chairs easily.