After my
Neutrogena Moisturizer
nightmare, I was once again on the hunt for a new daily moisturizer. As I yet again browsed the shelves of moisturizers, I spied this: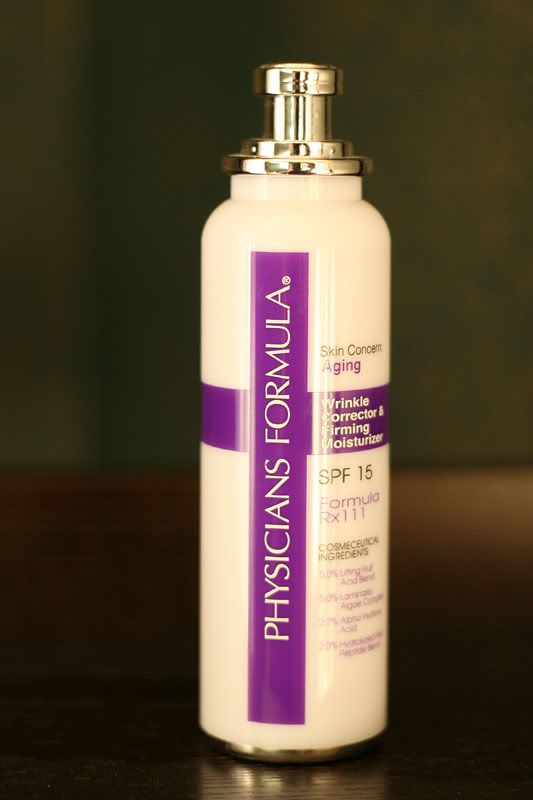 Per
Physicians Formula's
website, this is what the product claims to do:
Wrinkle Corrector & Firming Moisturizer SPF 15

Formula Rx111

Potent moisturizer instantly enhances skin's firmness, hydration and radiance. SPF 15 protects against damaging UVA / UVB rays. Luxurious and lightweight formula improves the appearance of fine lines and wrinkles for an overall smoothing effect.
It also claims:
Look 6 years younger in 4 weeks.* We promise.
I don't recall seeing this product before, so I think it's relatively new. Or maybe I've just overlooked it. Anyway, it doesn't contain Retinol, but I like Physicians Formula products, I like what the bottle claims it does & I like the price (around $15 or so), so I bought it. I'm glad I did!
Whether it was 'working' or not, I didn't really pay attention because as I mentioned before, I honestly don't think there's any product out there (expensive or inexpensive) that can rid and/or reduce wrinkles (please correct me if I'm wrong!). What I did notice, however, & what I
love
, is that this moisturizer goes on so smooth, resulting in a soft, satin-y feel with a pretty, subtle glow. It just feels & looks good.
For whatever reason, this morning when applying my makeup, I studied my face (next time, I think I may need a stiff drink beforehand ;o) a little. Smiling, poking & wrinkling my eyebrows (which I do all the time, unfortunately). Wait just one minute. What? Where's that one deep, long wrinkle area that I daily devote some extra moisturizer to? For the most part, it was gone! I smiled again & again & still, no long, deep wrinkle! Ok, now to check out my other problem area. The delicate skin under one eye that slightly wrinkles/gathers up when I smile. (When I sleep, I push & pull on my face a lot & over time, this has done damage on how firm my skin is in that particular area.) Oh it's still there, but not as prominent! By this time, I was almost high-fiving my moisturizer bottle. Ü
But not so fast. Later, while in my car during daylight hours, I looked in my visor mirror. Well shucks. There was that long wrinkle. I saw that sucker. But again, I swear, it doesn't appear as visible! I didn't have foundation on today, so sometime this weekend or next week, I'll apply a full face. With foundation & powder on, I'll compare those two areas with an old photo & hopefully I'll really be able to see if there is a drastic difference, like I
think
there is.
But in the meantime? In my opinion, this moisturizer is lovely. On a scale from 1 to 10, 10 being mah-vah-lous?
I'm giving this product an 8! Oh, before I forget - PF's last claim of "Look 6 years younger in 4 weeks." - um, no. ;o)
Happy Friday!