First, let me show you what I have always used to clean my silver & gold jewelry. For years & years & years & years: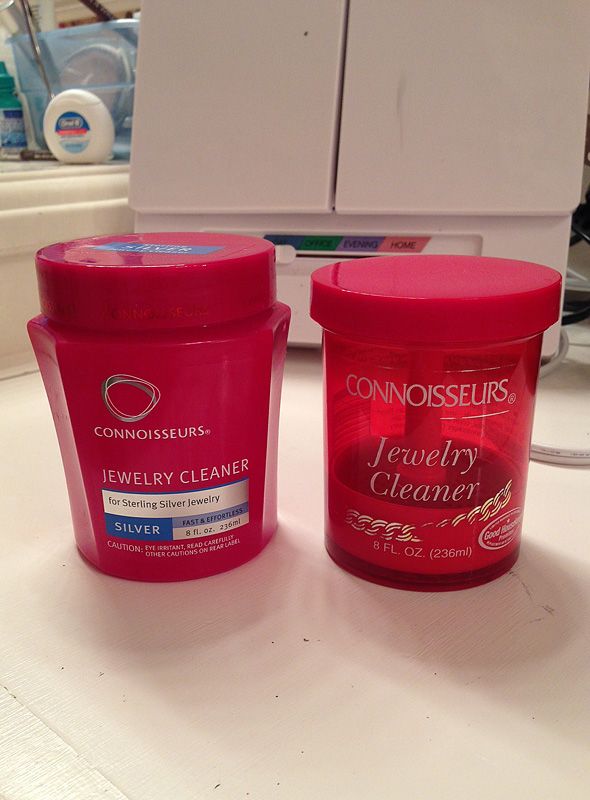 I opened up the silver cleaner the other day & gagged. The odor is horribly intense & there is a warning on the jar itself stating the solution is dangerous. I was pretty much over it. I sat down at the computer & did some googling on how to clean sterling silver naturally. I'm not linking back to any one site because I went to numerous sites & basically, they all say the same thing. So I pulled out the ingredients & got busy.
A friend warned me that she tried this experiment with her silver jewelry & it ruined her pieces. The difference is, her recipe (she got off Pinterest) called for vinegar. Not one of the recipes I found called for vinegar, so that may have been her problem (some of them did call for salt, but I didn't use that, either). None the less, I chose 3 very old, very tarnished pieces to start with, just in case they, too, ruined. The earrings I don't think I have ever worn. My ears are too fat (now you know by now I have a 'fat ear' problem, which is why I have so many piercings), so they've just been thrown in my jewelry collection for 15+ years. The ring I've worn a few times, but not many. No biggie if any of these got ruined.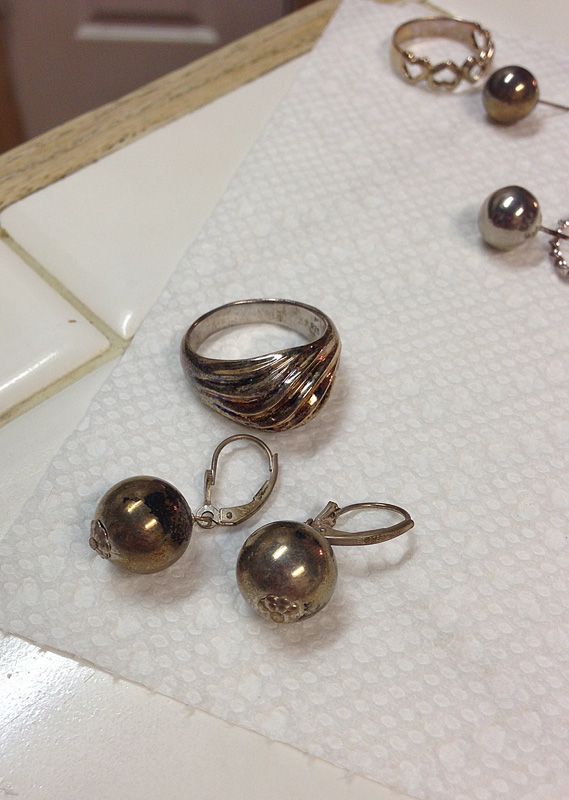 Here are the supplies you need:
Baking Soda
Foil
Hot, hot water
Bowl or pot
The first procedure I tried called for a bowl, with "wadded up" foil in it, & then 1 or 2 tblsp. baking soda.
Place jewelry in bowl & then add very hot water. Within minutes, bubbles begin to form on the tarnished pieces. The aluminum with the baking soda acts as a magnet to remove/reverse tarnish.
Was pretty cool, actually!
As you can see, my pieces were
really
tarnished & the procedure was taking quite some time, so I went back & read some of the other sites. Most of them mentioned placing the jewelry directly on the foil (vs. on the baking soda), so I changed procedures.
I got a pot, put enough water in it to cover my jewelry & let it boil. I then removed it from the heat. I put a piece of foil in it & tossed my pieces in. At this point, I threw in 2 more earrings & a ring, just for fun.
Then, I sprinkled on baking soda. I didn't really measure, I just kept sprinkling until I thought there was an adequate amount.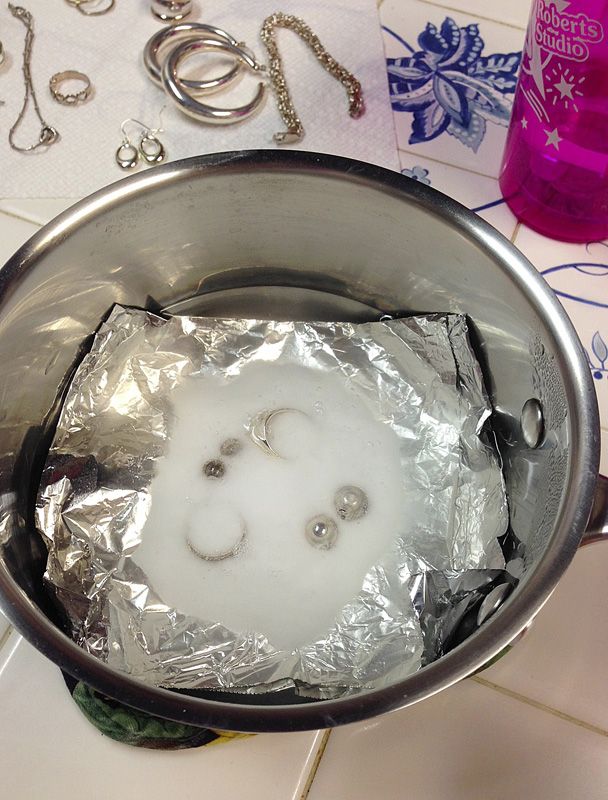 You can see how good they are looking - by this time (maybe 20 minutes?), the tarnish was really coming off!
Because my pieces were in such bad shape, I just let them sit in the mixture. I even put my hand in a few times & swished them around & then let them sit longer. I didn't time how long it took, as I was playing games with my kids while the pieces sat, but I'm guessing about 40 minutes total. Obviously, the longer they sat, the more untarnished they became. When I thought they were done, I pulled them out!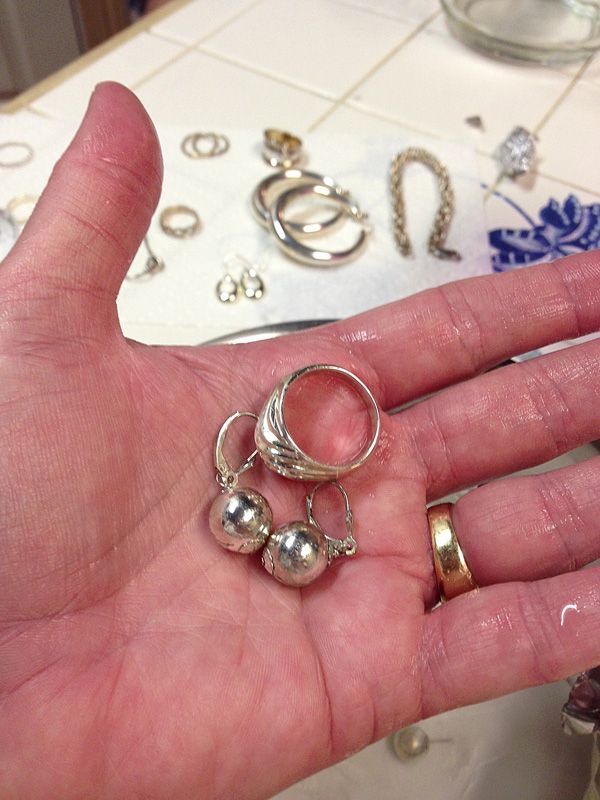 They look pretty darn good! I then washed them off with soap & water & dried them with a towel.
I was having a hard time getting a good, lighted photo, that really showed how revived & new they look! This is as good as I could get & I think they look fantastic!! They're so pretty again!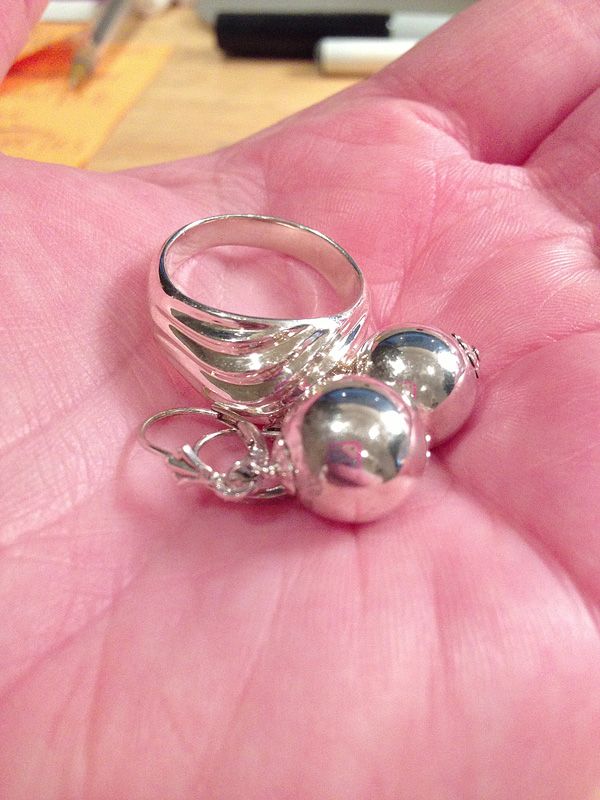 Out with my toxic jewelry cleaners! I'll use this simple, inexpensive procedure from now on. No more icky, harmful chemicals! I don't really think it matters which procedure you use, but I think the boiling water might work a tad faster. And, placing the pieces on the foil & then adding baking soda. I think it's more the ingredients that make it successful versus the technique. And of course, depending on the condition of your pieces, the less tarnished = the less time it will take.
Happy silvering!
Be sure to follow me on Facebook for more fun stuff!
Click here!!
Linking up with:
Not Just A Housewife
,
Home Stories A to Z
,
Under the Table and Dreaming
,
Alderberry Hill
,
Uncommon Designs
,
HuckleberryLove
,
Chic on a Shoestring Decorating
,
House of Hepworths
,
The Shabby Nest
,
Between Naps on the Porch
,
A Bowl Full of Lemons
,
House of Rose
,
Mary Organizes