No one guessed what this little jewel is! It's a
Hanger Station
! This cute thing adheres above any door frame & you place your hangers in the provided cups! Tada! Don't have anywhere to hang freshly ironed clothes? Now, you do!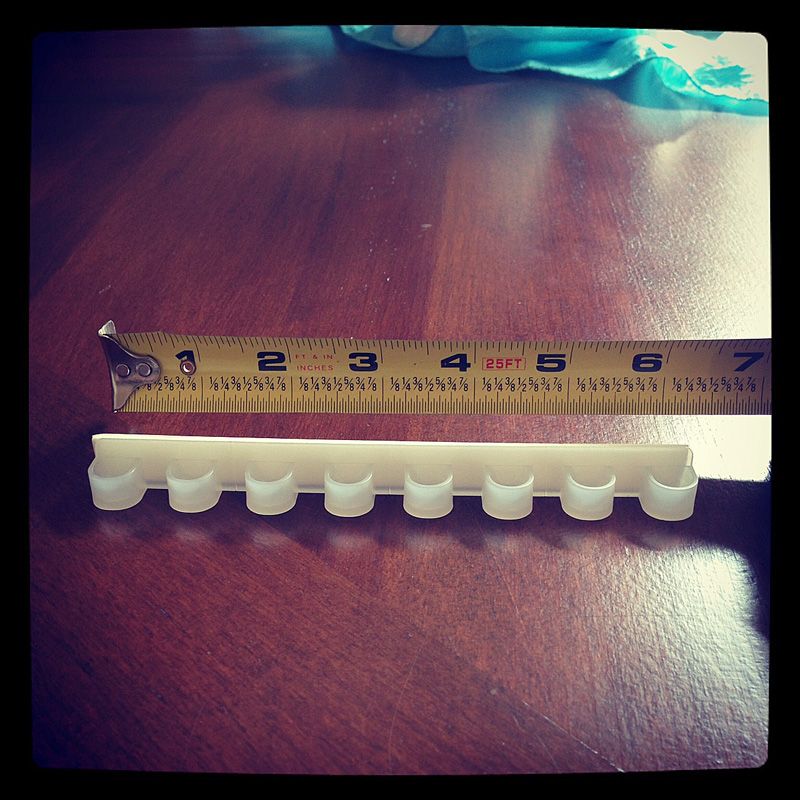 I don't iron much anymore. That said, when I worked outside the home, & even when my children were younger - I ironed a lot! And I NEVER had anywhere convenient to hang my freshly pressed clothes! I kid you not, I would iron an article of clothing, place in on the hanger, & then place the hanger on the edge of the counter where it ALWAYS fell off or on a doorknob where it would wrinkle due to draping on the floor!! Grr!! I remember well, I would get so stinkin' angry!! All that work to have to repress & rehang. I desperately needed this product!!
So. Let me show you how it works.
First, decide what area/room/door frame you want to use (use many, if you want to!) Then, clean! (A towelette is included, but I forgot to use mine. Doh.) Door frames get mighty dirty & dusty up there! Be sure to clean the wall directly above the frame, too. The wall is what the Hanger Station adheres to. (I chose to use my laundry room door, which is a little bunged up. Please excuse the imperfections!)
Once the frame & wall are completely dry, set the Hanger Station on top of the door frame, remove the backing, &
firmly
press the Hanger Station against the wall until it is securely in place. Be sure you do
not
place the station on the corner/edge of the door frame! Scoot it more to the inside, allowing clothes to hang free & not against inside of the door frame/jamb. Play with it first, move it around before adhering, so you have it (or, them) in the perfect position(s)!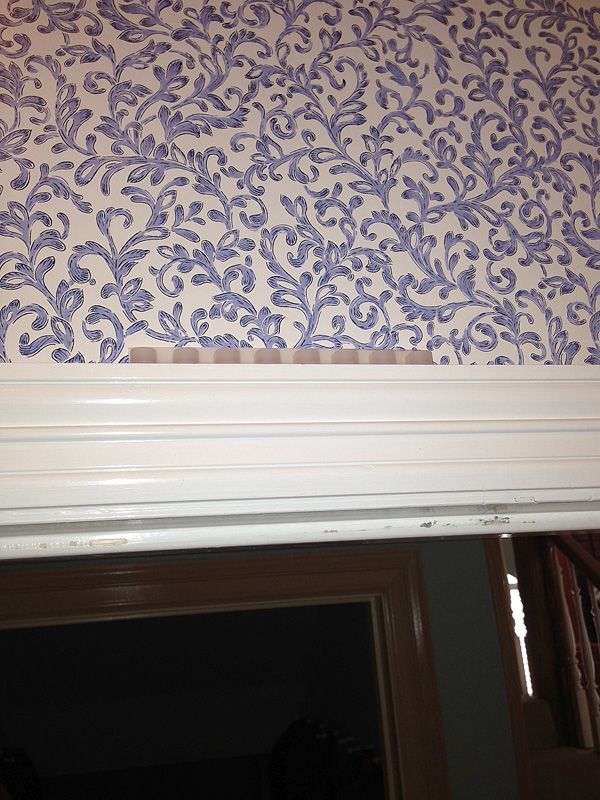 Then, utilize! In other words, hang away!
Look at that! No more fresh clothes falling to the floor or getting wrinkled by touching the floor! The clothes hang nice & loose & the hangers are secure in the little cups!
I found that using each little cup made the clothes a little too tight & cramped: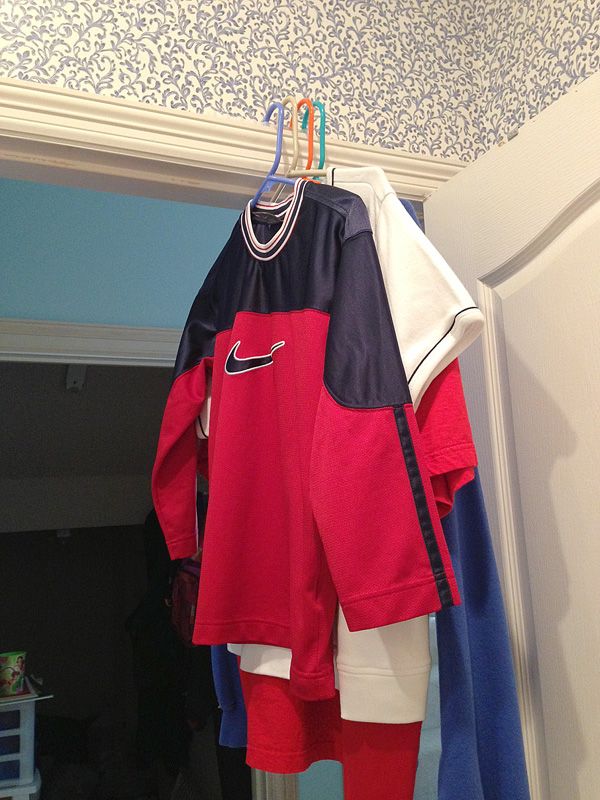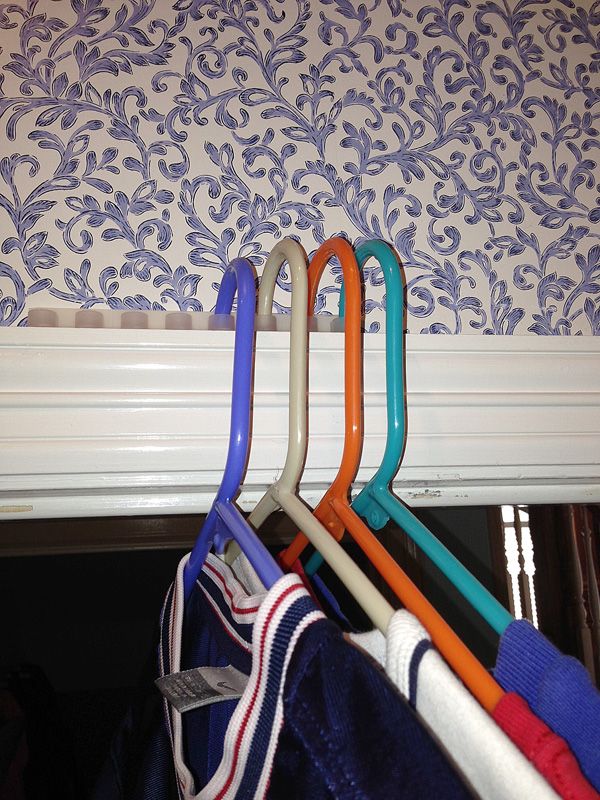 So, I just spread them out! Tada! Problem solved! This is where applying multiple stations will really come in handy!
Add as many Hanger Stations that the door frame will hold! Will it hold four? Use four!
I did discover one, minute 'issue' - just one! (This may not even apply to you!) The Hanger Station doesn't really accommodate children's hangers. The little hanger 'neck' just isn't long enough. It still works, it just swings the article of clothing sideways. Easy fix! Either put the article on a full size hanger for the time being or just space them out, using multiple stations!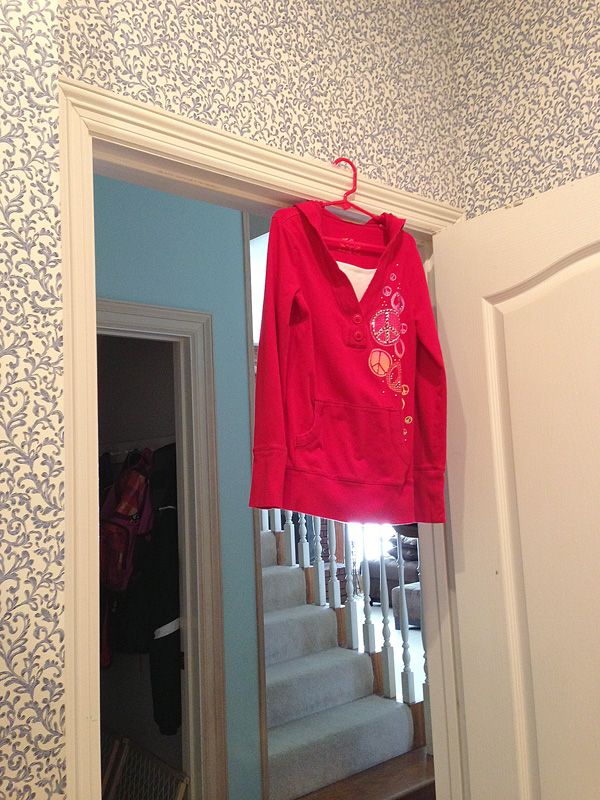 For those of you with small laundry rooms or inadequate ironing areas, the Hanger Station is for you! It truly is a great help & I love it! And like I said, I wish it was available years ago when my ironing frustration ran a little...rampant.
(And don't tell, but I plan on finding several other uses for this little jewel. Inside & out!)
Want yours?
Order here!
Happy hanging!!