Oh my gosh! Hi! Happy New Year! Have I really not blogged since December 12th? Wow! I am ready for things to settle down!
I'm so excited & ready for 2014. An opportunity to begin again, an opportunity to start fresh. Yes, please! I'm already making my to-do list! Ok, honestly, it's just adding to my current one. Top three? 1.) Getting my photography business off the ground! Why do I always choose the worst time to do this? Christmastime, really? Cold outside, people traveling, Christmas photos already done - geeze. 2.) Working my Shaklee business bigger, badder & more intensely! I want a huge team & I'm looking for serious Distributors and/or Partners! Best darn products available! Yip! Products everyone uses - it's just a matter of switching brands! 3.) Decorating & recipes - big time! (Maybe that should be #3 & 4?) I am going to whip my house into shape & beautify this puppy if it kills me! I have so many new ideas, & lots that I've had on my list but still need to do! And now that the holidays are over, I'm jumping right back into our improved eating. I don't regret, at all, pigging during the holidays. Heck no! Life is too short to fuss over foods during the holidays. But certainly, that eating regimen can't continue. School starts back on Monday (I am so heartbroken - I hate sending my kids back to school & it just gets harder every time it's time. Sniff.) & so does our typical routine.
What have I been doing over the last 3 weeks? Christmas, obviously. Purchasing, wrapping, 3 school Christmas parties, my husband's family Christmas, tying up loose ends, spending quality time with the kids just enjoying, our family Christmas & immediately following that, 3 of my children had birthdays! Christmastime at our home is exhausting! 3 birthdays following Christmas is so hard. But that's what God gave us & we make it work!
This year for birthdays, I did something new. I combined all 3 birthdays & we celebrated on one day. That means 2 had to wait for their birthdays & one had hers early. I was worried. Then I felt so guilty. But the day of the celebration, it worked! We went to Chuck E. Cheese (my kids' all time favorite!), then we took them to Toys R Us & let them pick out what gifts they wanted (on a budget, of course) & then we came home & had ice cream cake. The result? The kids loved it & asked to do the same for their next birthdays! I don't know if I'll comply, but the day was different & quite honestly, so much easier! But I don't want to be about easy all the time - I want to be about special. So we'll see.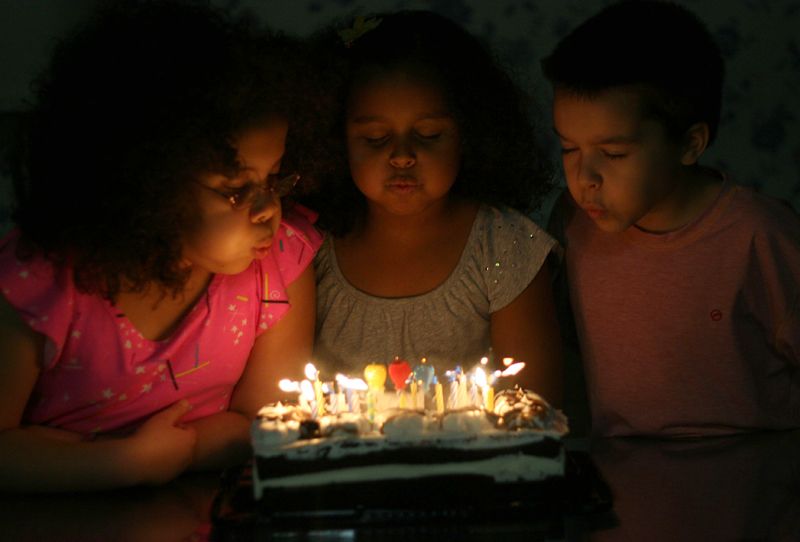 Funny, I forgot candles. Turns out, I had just enough (of a mismatched variety) to equal their birthdays totaled together - 25! Ha! Improvise. Winning!
Follow me on Facebook for more fun stuff!
Click here!
And thank you so much for following my blog & supporting my business - I appreciate you SO much!
Here's to a beautiful, healthy, happy, positive, fun, shiny '14!