I know. "The final rose". I kill me. :) I use that phrase 'cause I'm pretty sure - a garage sale? Ain't never happenin' again. Having a garage sale, in Texas, in July, is just asinine. I had accumulated so much stuff though, I had no choice. To say it was miserable day (& the week prior) is an understatement.


The most humorous/entertaining part of the garage sale were all the children's clothing. Oh. Holy. Pickles. I had no idea I had that many clothes. It was completely overwhelming. And I did not get all the bags/containers opened & separated; therefore, people came into my garage, sat down on the floor & opened all my stuff themselves! And I let them. I was beyond caring at that point. Ü It's a shame the photos do not do justice to the actual amount of clothing/shoes I had. People were throwing this & digging thru that, & now the remainder of the clothes are a complete mess! All my sets have been separated & I have to start all over again. At least I can drag them into the house & resort in the air conditioning. :)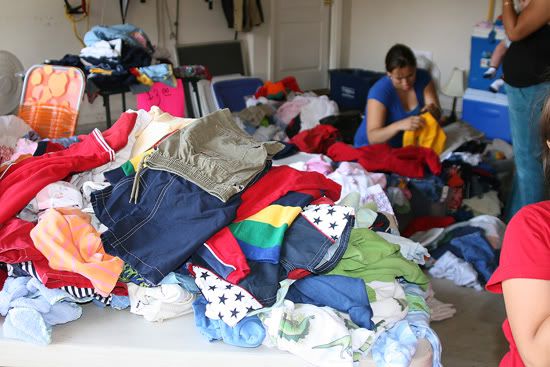 The below 2 photos are what I have left. And did I mention the clothes were all size 4T & under? LOL It's quite obvious my children had all (or most) of these clothes prior to moving into the money pit. 'Cause it'll be quite some time before they see a selection equivalent to what they were provided in the past. Baha! Ü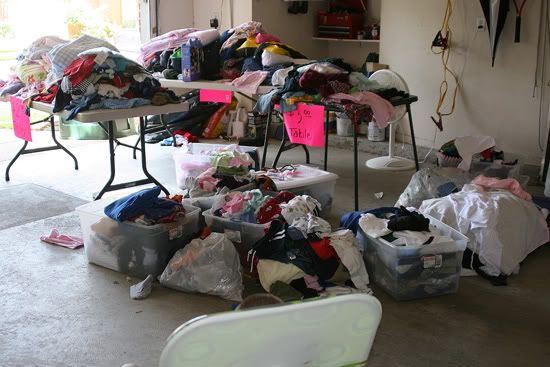 There is a somewhat new children's resale shop in our area (not the one I contacted about a year ago). Once I get a game plan & begin reorganizing the clothes, I'll be phoning them to see if they are interested in any of this. I have some leftover baby items as well, so hopefully they'll take the majority of what's left. I'll be taking the rest to Goodwill, after pulling some out for a friend.
All in all we had a super sale. But I sure don't want to do it again. Ever. Ü