Here is how I got there:
Go to: theblogfrog.com. Search: "MckDaddy". Click on: "MckDaddy Community Community". On the left side, click on: Created by: "MckDaddy". You will find the page below:
See the upper right hand corner? That is who "MckDaddy" follows. One is "MckMama". The other is "Dana". "MckMama's" photo used to be where the exclamation point is. She/they have since removed the photo. If memory serves me correctly, it was
the
photo of her in blue. Very pretty photo. Click on: "See All". You will then see the below page: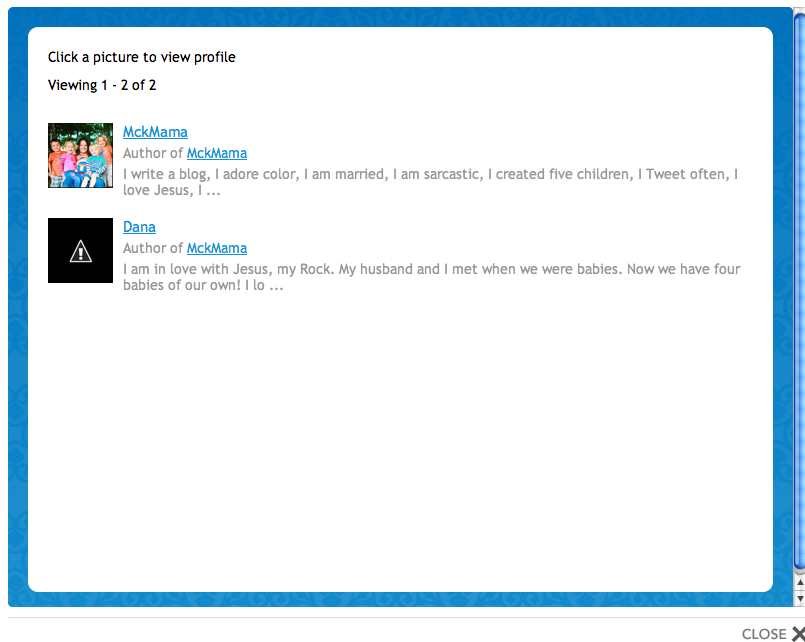 Click on "Dana's" name. You will then see the below page:
If you cannot read the "About Me" section it says:
"About Me

I am in love with Jesus, my Rock. My husband and I met when we were babies. Now we have four babies of our own! I love to be active and we don't own a tv. I'm obsessed with baby names and bright colors. I thrive on routine and a clean house. I love f more ...

Author of
MckMama

Twitter
@ily239"
And there you have it!
**For the most part, I no longer discuss the brand "MckMama" on my blog. However, seeing the number of girls who visit my blog searching for information regarding said brand, I thought I'd encourage you to visit
www.mckmamatruths.com
for any questions/answers you are seeking.
Good luck!