Let me preface this post by stating I have never seen my stove burners white. We have now lived in this home 6 1/2 years & until now - never seen them white. Or even beige. Ha!
To be totally honest with you, I don't even know how burners could possibly get in this horrific condition. Is it solely due to not cleaning? Which is what my husband thinks. Or, letting foods boil over? Plain ol' filth? I don't know. I keep my appliances in spotless condition (you should too! We cook/prepare our food in those!) & for the last 6 1/2 years, I've had to look at the suckers. And use them. The good news is that although they're grossly stained, they are clean.
When we first moved in, (of course) I attempted to clean them. I can't remember the cleaners I tried, except for the Mr. Clean Magic Eraser being my last attempt. I do believe, at that time, I actually heard Mr. Clean himself cringe. After that, I gave up. The burners themselves work fine, so there was no need replacing them and we weren't even sure if we could order new ones due to the age of the stove. I have been so embarrassed when we've had guests over. I know people have noticed them (who wouldn't?) & I've never thought to tell anyone that they were in this condition when we purchased the home. All of our guests probably think I let them get that way. Ew. I think I'll post the photos of Facebook so all of my relatives can see that I was not the guilty party. :)
Last night around 11:00 p.m., as I was headed to bed, I noticed my Shaklee
Scour Off
sitting next to my stove. So, I grabbed my sponge (I use the Scotch Brite sponges with the scrub pad on the back), a tad of Scour Off & went to scrubbing.
Let me now introduce you to my nasty burners. Yes, the white area (on the large burner; I accidentally focused on the wrong burner & the spot on the back burner is just a glare from the light) is where I used Scour Off.
Here is an up close: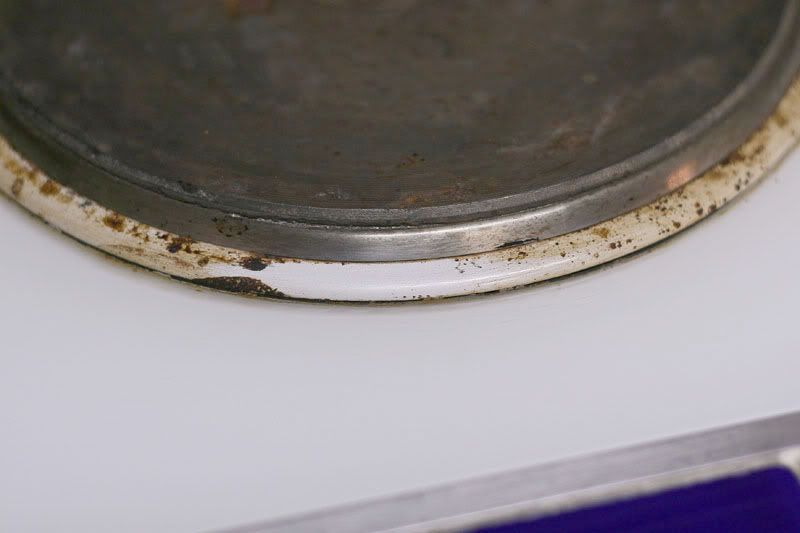 Wow! I wondered what it would look like after I devoted more time. So today, while the kids were eating lunch, I sprayed Shaklee
Degreaser
around the edge & let it sit while I washed some dishes. When I was done washing, because Shaklee is all natural, I just wiped it off! The degreaser alone removed a lot of the built on grime: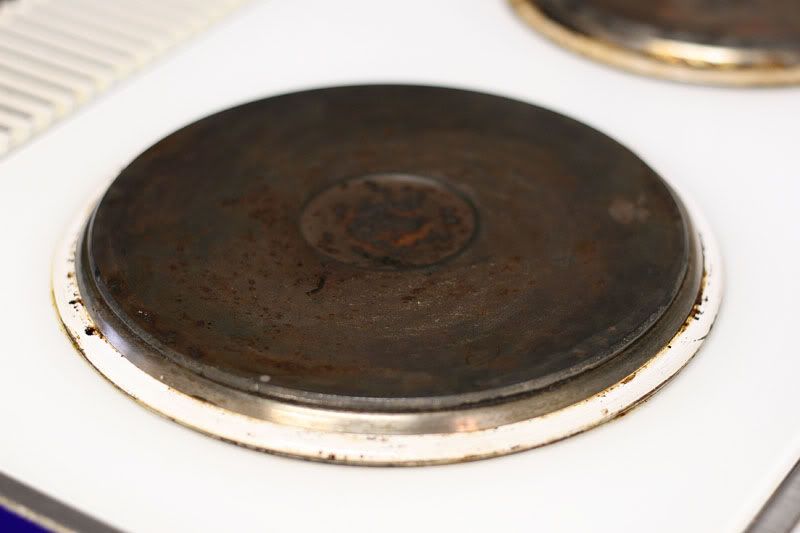 I couldn't believe it. Even still icky, I've never seen it that clean/color! Then I grabbled my sponge & Scour Off & began scrubbing. After a while, I switched to my kitchen scrub brush (which has a little edge of very firm bristles) & scrubbed some more. I worked on this particular burner for 10-15 minutes (at the most!) & this was the end result:
Unbelievable! I was even able to scrape off the crap that was burned on in the very center of the burner! For 6 1/2 years we have all looked at these nasty, unacceptable burners & after 15 minutes, it is white. White! Certainly not perfect, but considering the amount of time they have been so horrible (who knows the actual years they've been in this condition!), I think the results are phenomenal!
Below is another photo of both burners & you can really see the difference. Remember, the large burner was in the exact condition of the smaller burner.
Just another reason I am now completely committed to
Shaklee
!
And now - I get the pleasure of cleaning the rest of the burners. Oy!