Typically I'm not a garage saler. I do some drive-bys, but that's about the extent of it. But today? I got ambitious! I went garage saling & got out of my car. LOL Kind of makes a difference! I have been totally inspired by
Thrify Decor Chick
, as well as
Destiny
, so by george I was determined to go out today & score some home decor. And score I did - look! Ü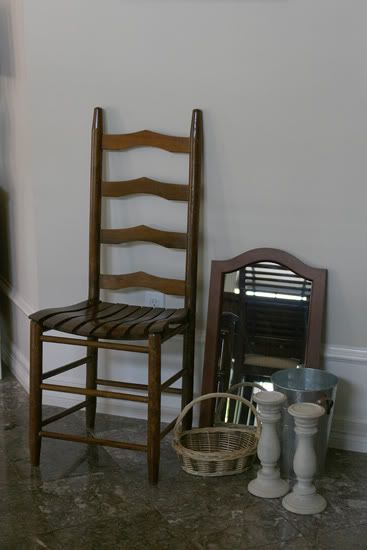 I am just so darn tickled pink, I'm ready to go again! Woot! I'll break it down -
Wood chair - $8.00, I bargained & paid $7. I am all about wooden chairs right now; I have a feeling our home is going to be filled with them.
Mirror - $4.00 - excellent quality. I was going to paint and/or chalkboard it for Jaguar's room - but I placed it on my server in front of a large, silk, green plant & it looks quite pretty! May leave it alone.
Metal/tin canister - $2.00 - I ♥ these! I will fill it with tall, sophisticated, silk flowers & may place in my master bathroom.
Tiny basket - .25 - I am not a basket person; I have sold tons of baskets myself over the years at my own garage sales. However, people are now spray painting them - so I bought this for Mercedes' room & she can put jewlery and/or hair accessories in it. I'll paint it pretty.
2 raw candlesticks - $7.00 for both, I bargained & paid $5. They are ready to be painted! Love candles & ♥ candlesticks, so these are perfect!
Total = $18.25! I am just giddy!
The first garage sale I pulled up at? Had the most perfect turtle sandbox for sale. LOL Just my luck! ;o)