This is soooooo good! This is not my recipe. You can find the original recipe
here.
I made a few modifications. Takes about 10 minutes to make.
Ingredients for Ranch seasoning:
1 teaspoon dehydrated garlic
2 teaspoons dehydrated onion
2 teaspoons dehydrated sun-dried tomatoes, finely diced
1 teaspoon paprika
2 teaspoons dried thyme
2 teaspoons dried dill
2 teaspoons dried chives
2 teaspoons dried parsley
1 teaspoon black pepper
Kosher or seal salt to taste (I use
Celtic Salt
)
Add all ingredients to a small bowl & stir to mix. Store in a glass jar with lid, away from light & dampness. Use seasoning in dips & dressings.
*I doubled the seasoning recipe so I would have more. I sure am glad I did! I think I need to triple it!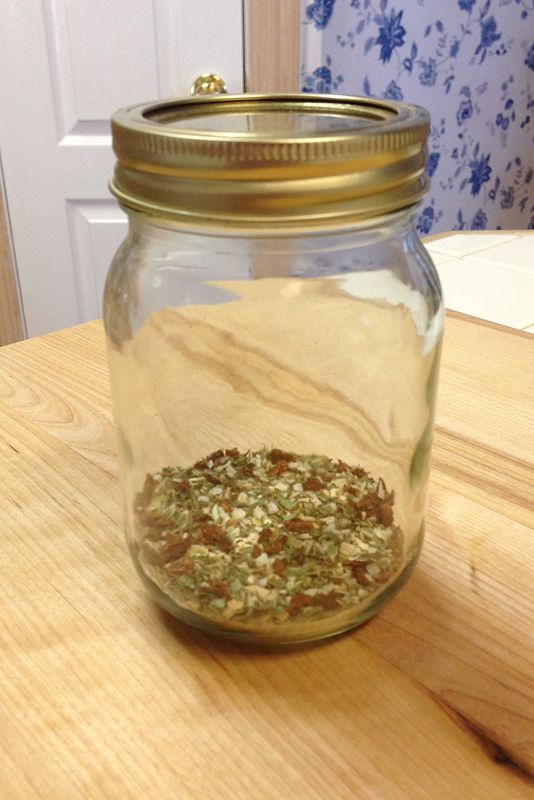 Ranch dip recipe:
1 cup Greek Yogurt, plain, fat-free
1/2 cup reduced fat sour cream, optional Greek Yogurt
1 tablespoon Ranch seasoning
Combine ingredients in a medium bowl, store in an airtight container in the frig. Allow dip to set overnight in the frig before serving.
*I do not use low-fat or fat-free anything. Ever. So I used just plain sour cream. After I mixed it all together, it didn't seem to pack much of a punch. So I added another tablespoon of the seasoning.
It is wonderful! After it sits in the frig, it gets even thicker & the seasonings & flavors mix further, making the flavor more intense. If you don't like really strong flavors, I recommend using just the 1 tablespoon to start.
In our opinion, it does not taste like Ranch. I think it has it's own unique taste & my husband thinks it favors Peppercorn Ranch. It's different. It's bold. It's a welcomed change in our home! I already need to make another batch.
This is what the bowl looks like less than 48 hours after I made it. We used it to dip, to spread on sandwiches & in salads. I may add a little milk next time to make it less thick/more creamy.
(Pardon the avocado on the spoon. I added avocado to my salad. Yum.)
I will never purchase bottled dressings again. If we desire something different, I will google & find a homemade recipe. I am really starting to enjoy making our own foods. Did you just pass out? LOL :)
Linking up with
Chic on a Shoestring Decorating
,
Shabby Nest
,
House of Rose
,
House of Hepworths