Wednesday the kids & I headed to Goodwill - our first trip on 1/2 off day. Oh. Good. Lord! We pulled up, an hour after they opened, & the parking lot was
full
. Typically, there's only a few people there when we go so needless to say, I was flabbergasted. Through the windows we could see the store cram-packed. We decided to give it a shot, so in we went!
I got all of the above for $34. I chalk that up to a very successful trip! I'll break it down -
Tall candlestick - $5.95 - $3.00
Awesome hanging candle lantern - $4.95 - $ 2.50
2 silver net office supply (or whatever) baskets - $.95 @ - $1.00 for both
2 mason jars - $.95 @ - $1.00 for both
2 dainty white cups - $.75 @ - $.75 for both
12 shirts - $2.99 @ - $17.94 for all
1 shirt - $1.99 - $1.00
2 articles of clothing - $4.19 - $4.00
1 puzzle - $.25
Those are rounded, but I paid, tax included, $34 for everything. A lot of the $1.99 clothing included: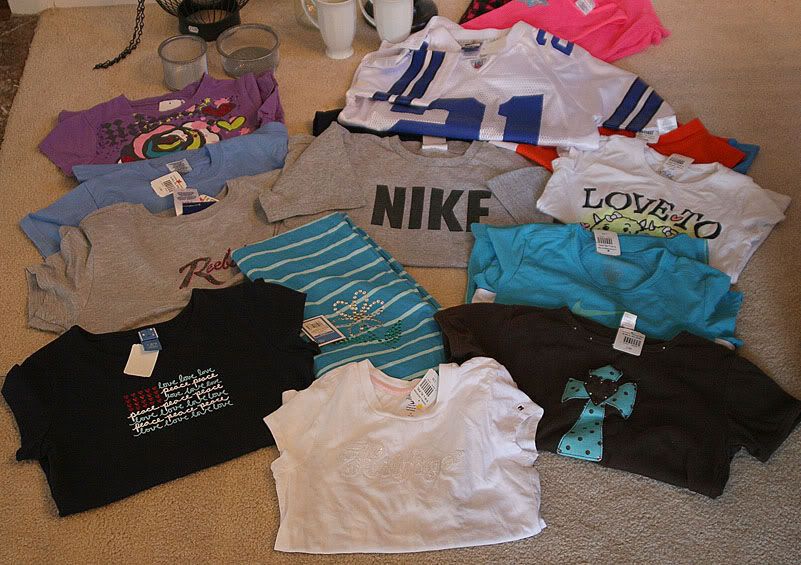 New hot pink swim cover, like new Hilfiger shirt (white w/ white bling spelling Hilfiger), new Cowboys' jersey (which sell new in stores for about $25!), new Reebok shirt (with tags), new pink/black lounge pants. The brand name clothing is just unbelievable. All of the shopping carts were taken, so we had to carry all of this around. I think next time, if I return on 1/2 off day, I'll go as soon as they open. :)
In other news, we have finally made the decision to move! We've talked about it so many times & have never taken the plunge. This week, both of our a/c units went out, at the same time! It's 105 degrees outside - blah! Hubby got the upstairs working (while he has a ruptured achilles tendon & is in a huge boot!), but he didn't have the same luck with the downstairs unit. It was so hot in here I thought I was going to die! Thankfully, our tech guy was able to make it out the following day & low & behold, he only charged us $50 for the repair! We couldn't believe it. What a blessing! This house just continues to have so many issues, we just are burned out & don't want to do it any longer. Six years is long enough. It's time to move on! We need to wrap up some things first before we listing, but I'm going ahead & selling more furniture to rid big items we don't want/need any more (so we'll have less to move) & we're tossing junk. We're also going to start boxing up things we don't use consistently. It's going to be hard enough to make a move with four young children, so I'm determined to get a head start. Though my desire is to move to a smaller district/town, we've decided to stay in the town we're in. We're in a great booming town, super location, relatively close to hubby's work but most of all,we like it here.
I'm so excited & I hope & pray we can sell this house - houses in our neighborhood were selling, but suddenly the market in our area has come to a stand still. All we can do is try. This time, we'll be selling it ourselves. Wish us luck!
Happy Saturday! :)