Oh dear. I confess, for the last couple of days, I've been 'too busy' to take these: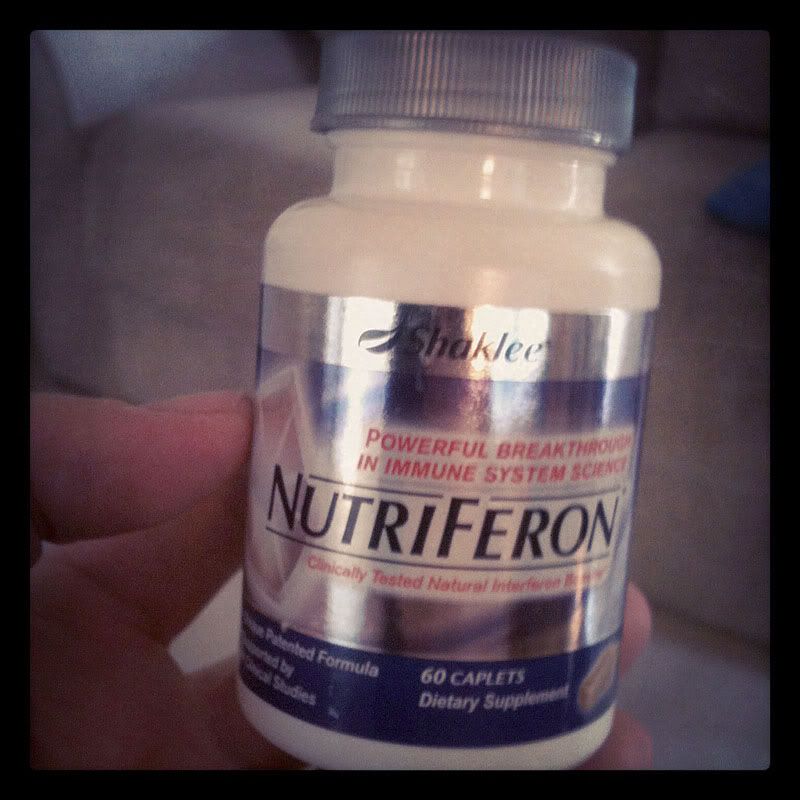 And now, I'm sick! I don't get sick often, just maybe an occasional minor this or that here or there. Mostly due to lack of adequate sleep.
You better believe, I won't miss another day of taking these jewels! I do not like to be sick, I am too busy to be sick & I am not going to risk contracting the flu, now that it's cold & flu season. Blah!
Here is some information on this amazing immune system booster:
NutriFeron™ – Highest Level of Daily Protection
NutriFeron is an exclusive, patented supplement that increases the production of
your body's natural interferon, a key influencer in your immune system. NutriFeron
helps build a shield for your immune system, placing it on ready alert so it can better
respond to threats.
A proprietary blend of natural plant extracts from pumpkin seeds, safflower flowers,
plantago seeds, and Japanese honeysuckle flower buds, NutriFeron has been clinically
proven to support and stimulate the natural immune response.*
Look at all those natural ingredients! That's what I'm talking about!
Don't risk it! Get yours
here
!
*NutriFeron is eligible for AutoShip (automatically delivered monthly, without you needing to remember to reorder!), which gives you an additional 10% off member price!
Tomorrow, I hope tomorrow, I'm going to share tips on how I keep my family healthy during cold & flu season. It's been five years since our entire family had the flu & a repeat is not welcome! And now with Shaklee's incredible supplements, our chances are even slimmer & I love that! Check back tomorrow evening for little things I do for my family to be proactive!
*My husband is currently having to work very long hours at work; therefore, my post will come on Thursday or Friday!