Never thought I'd be posting those words on my blog! Ha!
On November 1, 2012, I wrote this
blog post
about why I changed to Shaklee's
paraben-free
Essentials Antiperspirant Cream & what little miracle occurred during the process. I thought it was time for an update!
Quick review.
For years I had this unsightly underarm rash,
under both arms
. I had it for so many years, I don't even know how many years it was. I just lived with it. What I failed to mention in my Nov. 1 blog post is that the rash(es) was actually more pronounced than is shown in the photos. My old iPhone didn't have a flash & it never displayed proper color on images - the photos were always lighter than they were in person. Example - when my hair was jet black (don't ask), my iPhone images displayed my hair color as being dark brown. The red rash(es) you see in the photos was actually deeper red than they appear. Not larger, just redder.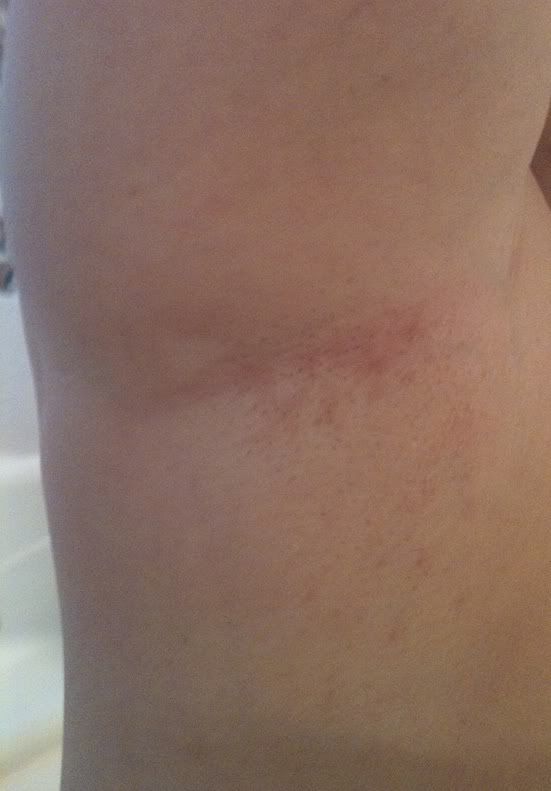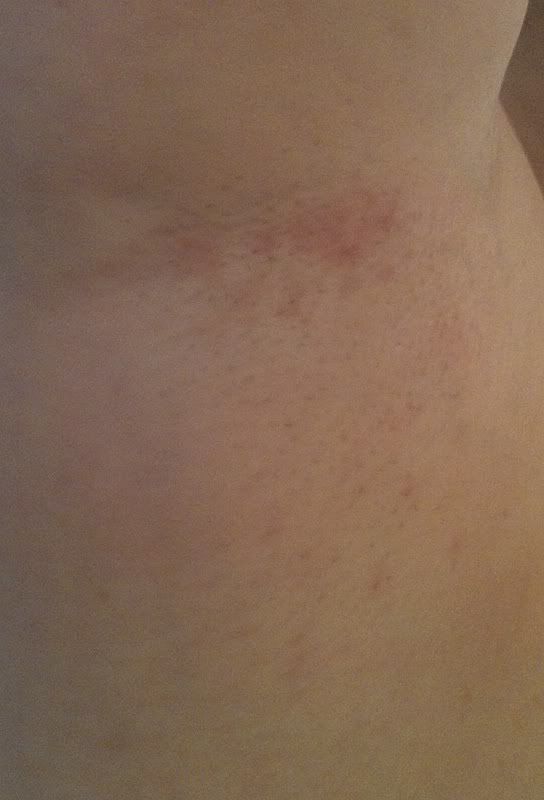 When I stopped using my commercial deodorants, my rashes disappeared! They darn tootin' did. And that's not even why I switched to Shaklee, it was just an extra bonus. I'm delighted! After all those years - gone. The red, irritated rash(es) dissipated, but kind of left a light brown coloring from 'scarring' (as I call it). I was fine with that!
The photo below was taken a few days ago, with my new iPhone, that does have a flash. The coloring is so much better! You can see, 6 weeks after using Shaklee's Essentials Antiperspirant Cream, the rash(es) is still gone! And though it may be hard to tell, now, so is the scarring! Also, I have the cream on in the below photo, because I want to show you how your underarms will appear after applying the
white
cream. It instantly disappears! You can see just a tad of wetness right in the crease, because I had just applied it & it hadn't completely dried yet. I LOVE this stuff!
As you can see on the jar, I began using it on 10.13.12. Six weeks later, this is how much is still left! This will last me about 30 more days & then it will be out. So all in all, this little jar, which I have used every single day without fail, will have lasted me 90 days or so! Yes, please!
Too expensive? You decide. It's $12.00 for members ($14 non-members). So basically, that's $4 monthly. What are you paying now? I know that Secret's newest line runs around $7 or so. And I know the Secret I was using didn't last me 3-4 months. So. Paraben-free?
Yes
. Visual proof that it eliminated a 'permanent' rash(es) caused by commercial,
chemical
deodorants?
Yes
. All natural & safe?
Yes again
.
I've said this many times, but I'll say it again - I am one
very
picky person. If I don't like a product, I'm not using it. It's just that simple. I don't care if I sell the stuff or not. I
love
products, so I only use what I like & what works. I've used this product for 6 weeks now. By now, I can call it. Ready?
Shaklee's Essential Antiperspirant Deodorant is the best deodorant I have ever used & I will never use anything else.
I'm 45 years
old
sophisticated. That means I've used a lot of different, commercial deodorants. And that means, I just made one heck of a claim.
Ironically, a friend of mine posted this article today on her FB page. I did not search this article out or even do any further research (I've done plenty). It just drives home the message I've been trying so hard to get out - it's just more proof that switching brands can benefit your health! Check out #3!
http://www.healthychild.org/blog/comments/how_to_avoid_chemicals_linked_to_breast_cancer/#ixzz2E0pkNLOk

You can purchase the deodorant by
clicking here
. You don't need the parabens. Neither do your daughters, daughters-in-law, nieces & granddaughters. Parabens are present in 99% of breast cancers. For your health, please order some!