I have to tell you, I am not a fan of TJ Maxx, Marshall's or Ross. I've peeked in all of them, only to turn around & walk out. So many people I know love these stores. Me? Not so much. Not sure why.

One of my most favorite blogs, which belongs to an amazing & sweet girl,
Melissa
, shops frequently at Ross & finds the most adorable home decor. So today, off Mercedes & I went.
Well-hello-Ross!
I do believe I fell in love today. With Ross' home decor department. ♥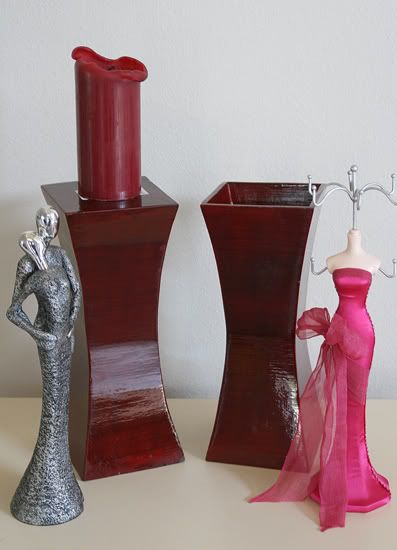 First off, we have the affectionate silhouette of a man & woman. Sweet! I think it is adorable. This will be placed in my informal formal living room. The colors in there are silverish-blue, browns & silver. I have a new shelf I need to hang & this little pretty will display perfectly on it.
Second, we have the wooden vases. These are "ecofriendly" spun bamboo & were made in Vietnam. So cool! :) My family room colors are greens, brick & browns. These will display nicely perched upon our mantel - however, I will be turning them upside down & use as candlesticks (I will not be using this color of candles). I know. My creativity is just never ending. Baha! :)
Lastly, we have the beautimous dress form jewlery holder, that will be placed in Jaguar's room to hold her little necklaces. As you know, I am in the process of redecorating her room in turquoise, deep red & pink. Scored her a rockin' turquoise/leopard comforter at Kohl's last weekend. I can't wait until her room is all pulled together, but it will take some time while final touches are completed. It's going to be a booger finding the curtains I am visualizing. :)

My husband is currently in California, so I'm busy busy! Just had to post & show you my new little finds! And now, back to business! Ü