Destin, Florida. My most favorite destination. Ever. Ü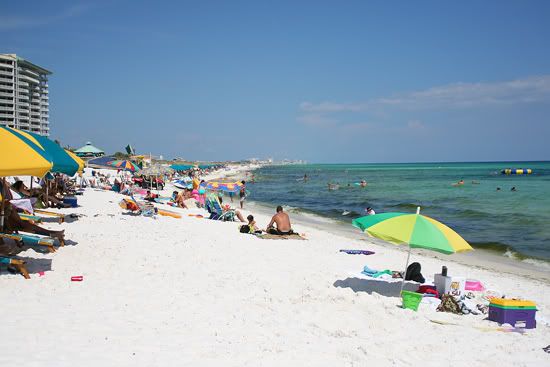 We decided to return to Destin this year for our annual vacation. About the time we were to make our reservations, the good ol' oil spill happened. We had no idea what to do. We waited & watched, waited & watched. Finally, because were were hesitant & had waited so long, no reservations were made. Sigh.
At that point, we decided to head to Galveston for vacation. We ♥ Galveston, so we were ok with that. Because we hadn't been there since Ike hit, I didn't want to make reservations because I was unsure where I wanted to stay. So, we were going with no reservations & were set to leave last Monday (Aug. 2).
Sunday prior, while out on an errand, suddenly hubby pipes up & says "You know what? Let's head to Destin. Everyone says the beaches are fine - let's just do it. Let's go." Oy! ♥ my man. :) One issue, the dog. He was scheduled to be boarded on Monday a.m., & we wanted to head out on Sunday. It occurred to me to just take Bray with us & board him in Destin. It would be less time away from him & cost us less money. Tada! :)
And so it was. We ran home from our errand, packed on a whim, & off we went on the 12+ hours trek. We spent the entire week in Destin & it was heavenly! (It was also really cool because three of my Facebook friends & their families were in Destin & Panama City! We never hooked up, but we texted back & forth. Fun! :) We returned home last Saturday night @ 11:30 p.m. We are still tired! But it was so worth it. Destin is beautiful. The beaches are so unlike Texas beaches. This year we made the decision to return to Destin every summer for our vacation. I simply adore Destin & my husband loves it just as much. We briefly discussed relocating there; unfortunately, there isn't much of a market there for my husband's industry. So alas, vacations will have to suffice. And that's just fine. :)
And now I'm on overload. School starts in 3 weeks. School supplies & school clothes for three children, this year. Completing painting & decorating Jaguar's bedroom. Our master shower needs a complete restore. Now. It's barely hanging on. Clothes from the garage sale are still sprawled all over the garage. I'm trying to declutter my entire home. I'm trying to cook more healthy/from scratch for my family. This needs to be done. That needs to be done. Currently overwhelming but I know, as always, everything will be ok. Ü
More Destin photos soon. ♥