What is that, you say? You think thrift shopping is my newest obsession? You'z be'z correct. ;o) Now listen. I've been cooped up in this germ filled house with germ filled wee ones since last Friday night. I'm so glad to be released, I had to make up for lost time! I have to watch myself though - my adrenaline starts getting the best of me & I need to make sure I don't purchase items I really have no use for. I want to be savvy shopping, not sloppy shopping. Ü


So lookie.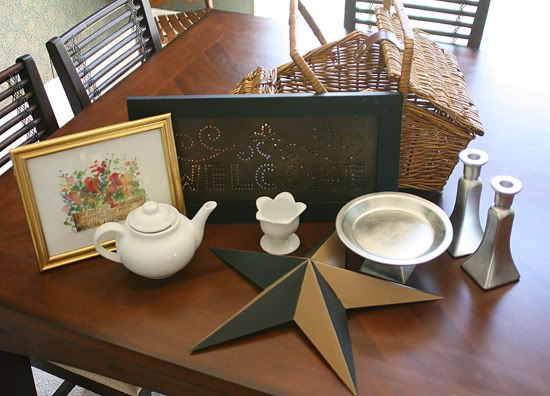 I know, I know - score! $26 total.
Tin star - $4.99. Will spray paint silver - if I like, I'll go back & purchase more stars to make a group.
Picture - $2.50. Love the sentiment. "Our lives are full of flowers that bloom forever. Family - Friends - Life". Colors are good for C3's room, but icky frame has to go.
Tin "Welcome" sign - $5.00. Not sure how I'm going to fix it up (but I am), but I do believe I'll put this under our covered patio out by the pool.
Picnic Basket - $3.00!
White ceramic flower - $1.00. Currently I am all about white dishes/ceramic pieces (& chairs! Don't forget chairs! ;o).
White ceramic teapot - $3.00. Too cute!
Silver plate stand - $3.00.
Silver taper holders - $1.00 each.
My girl & I then mosied on over to Target - bought some twin clearanced sheets for 50% off to use as back up. Coupon holder - $1.00. Cute candles, smell so good - $1.50 each. New dictionary - $1.00. Books - Oliver Twist & Huckleberry Finn - $1.00 each!