Notice the color of her shirt.

And the new paint color on her walls.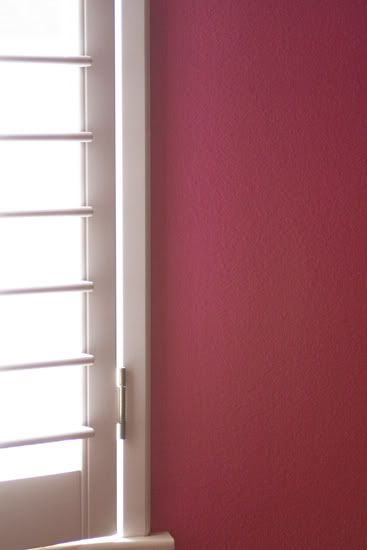 And there you have it. Ü
Yep, her entire room is now magenta! With shimmers, of course. Her room is not completed. What was supposed to be a quick 1 - 1 1/2 day room paint, turned into 3 full days, & it's still unfinished. Her room is beautiful, but getting it that way was not. From my paint brush getting icky, gummy while painting, to me using old painter's tape that obviously did not adhere to the baseboards & crown molding = one big magenta mess. I still need to cut in around her closet & 2 corners, & hubby needs to reroll the gummy mess on one wall. Even though I retaped & rectified a lot of baseboard mess, I've still got to figure out how to remove the remaining excess paint from the baseboards & crown molding. I will not leave it like it is - I am a perfectionist & I only tolerate clean, perfect, straight lines. Ugh. It will drive me crazy if I don't get it fixed.
Jaguar is currently bunking in with her brothers until more progress is made. And dare I say her room still smells to high heavens! 4 days later. No clue what I'm going to do about that! I've placed bowls of white vinegar in all bedrooms for a few days now & really, I can't tell the vinegar is helping much. Nonetheless, I'm trying to stay optimistic & keep focus on how pretty her room will be once we finally get it finished. Jaguar loves it already. :)
This afternoon we are off camping! Hubby & I are pro campers -we used to go once a month. That was before four little people joined our family. This will be our first camping adventure as a family of six! I know my wee ones will love camping & I can't wait to watch them roam, explore & run free. ♥
Happy weekend! Ü