Lookie! I'm acting like one of the important people & doing a tutorial! Yay me! Why am I doing it? I dunno. Teehee. :) Moving on.


When painting Jaguar's room, I mentioned that I used old painters tape & it did not adhere to my baseboards/crown molding thus creating sloppy molding lines. My perfectionism tends to call the shots, so you already know that I must, must, must have clean, straight lines. After hyperventilating over said sloppy molding, I was bound & determined to come up with a solution to get off the extra paint, short of purchasing/painting/installing new molding. Ü
That little white spot is a paint crystal (which are amazing!). Anyway, my first thought was to try to kind of scrub it off with something wet. Hello baby wipes! Using my thumb nail, I put my thumb under the wipe, running the wipe along the very edge of the molding. The paint along the molding gets damp from the wipe, but it dries right up. It took a tad of elbow grease, as the paint at this point was several days dry...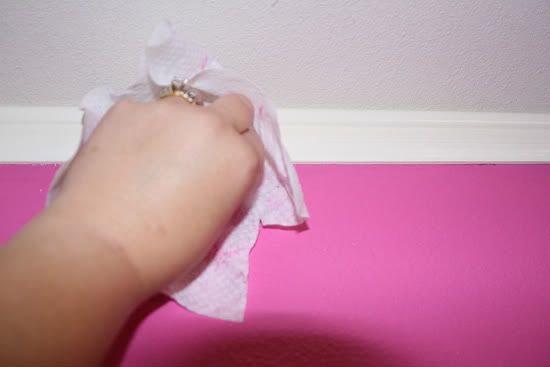 Tada! Worked like a stinkin' charm.
I couldn't believe it! I just can't tell you how happy & content I am that Jag's room now has nice, neat molding lines. I've never had this issue before when painting, so I was so relieved to have found a solution. Things such as this keep me awake at night & I need my beauty sleep. ;o) I will always use water based paint (I think most do) from here on out, if for no other reason than this dilemma alone.

I also discovered along the way that molding is probably never going to have perfect, error-free lines. Why? Because woodwork isn't perfect. Ours isn't, anyway. Our house is over 12 years old, & all of our molding has some sort of nick, ding, missing slivers, etc. Tape can't adhere directly to areas such as that. That's ok with me though, as long as the molding that isn't damaged in some way is nice & clean.
I'm finishing up Jag's room this weekend (including most of the decorating). Then up & on we go! We have 14 more rooms to do. Teehee. Ü
(The dark spots in the photos aren't on the paint. Seems I have some water spots on my camera lens. Oops. :)