Now that we are diligently trying to improve our health, can I say I get so darn tootin' excited when I attempt a homemade recipe & my kids love it? Last it was the jello (I'm making grape jello later today!) & now, these! My kids absolutely loved these nuggets & I am thrilled! Add in simple & boy howdy, I am one happy camper!
Recipe:
16 oz. (2 large) skinless, boneless chicken breasts, cut into even bit (bite?) sized pieces.
salt/pepper to taste.
2 tsp. olive oil.
6 tbsp. whole wheat Italian seasoned breadcrumbs. (I used plain - had it on hand.)
2 tbsp. panko. (I used Italian - had it on hand.)
2 tbsp. grated parmesan cheese. (I used shredded - had it on hand.)
olive oil spray.
Preheat oven to 425. Spray baking sheet with olive oil spray.
Put olive oil in one bowl & the breadcrumbs/panko/parmesan cheese in another.
Season chicken with salt/pepper, then place in the bowl with the olive oil & mix well, so the olive oil evenly coats all of the chicken.
Put a few pieces of chicken at a time into the breadcrumb mixture to coat, then on the baking sheet. Lightly spray the top with olive oil spray. Bake 8-10 minutes. Turn them over & bake an additional 4-5 minutes or until cooked through.
Devour!
(Ok. I added that last word. Ha!)
I actually used chicken breast tenders. So simple! Also, per Google (how did I ever live without Google?), I read that placing the chicken in the freezer briefly to get it good & firm will make the cutting easier. It's true! It was so easy to cut into pieces.
Feeding a family of 6 (really just 5, I typically eat salad for dinner but I did try a few pieces!), naturally, I had to increase all of the ingredients. Cutting the chicken was easy, but
so
time consuming. Next time, I will cut the chicken in advance, then all I'll have to do at dinner time is bread & cook. I'll also purchase the accurate ingredients - I bet they'll be even yummier! I will continue to use chicken breast tenders, though. The only obstacle I ran across was turning these little puppies over. I didn't want to use a spatula, because it knocks the breading off. So I used my fingers. And yelled "ow!" a lot.
Mmmmm. Nom nom.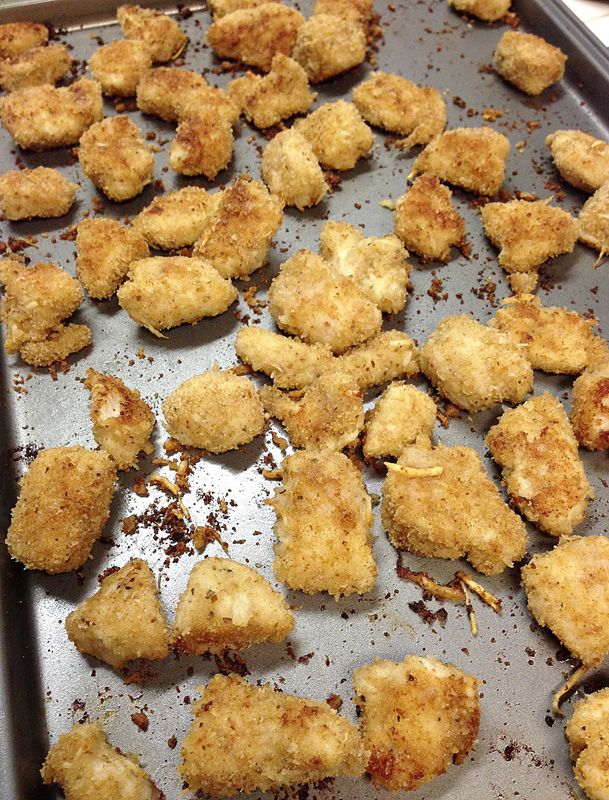 I cooked two sheets of nuggets, so some was left over. I ate them for lunch yesterday & they were even better! I dip mine in ranch. #winning
Enjoy!
Original recipe
here
.