For many years, I have used a humidifier(s) when someone had a cold. I'd use them as needed & then store them away until needed the next time. Seems I'm always a day late & a dollar short, but this winter season, I am using humidifiers consistently. For a good month or so now, I have 4-5 humidifiers running 24/7. Hindsight being 20/20, I should have been doing this every winter. Texas has been (& typically is) so dry & now with running the house heater, there just isn't much moisture to be found.
A few months ago, my Shaklee Distributor shared a little humidifier tip with me - add a bit of Shaklee's
Basic G
Disinfectant to the water, to disinfect the machine & deodorize the water/air. So, of course, I did. Oh boy. I LOVE it! My machines & filters stay cleaner longer & I'm so happy knowing the mist coming from the humidifiers is sanitized! And of course, Basic G is non-toxic, so I don't have to worry about myself or my family breathing any toxic chemicals! Love, love, love!
I use small humidifiers, so the tanks aren't huge. When adding Basic G, I don't measure. It's highly concentrated & a tiny bit goes a very long way - so I just add a tad. Just a teeny amount. All of my humidifiers are cool-mist, so I then add cold water. It starts to foam up just a bit, but the bubbles dissipate immediately.
All of my machines have filters, except for one. I have one Vicks machine that has no filter. When adding G to that one, if I add too much, the machine starts sweating & everything gets soaked around it. I have to be very careful not to use too much with that one. But the others are fine. Should I add just a bit too much, they work fine. No condensation at all.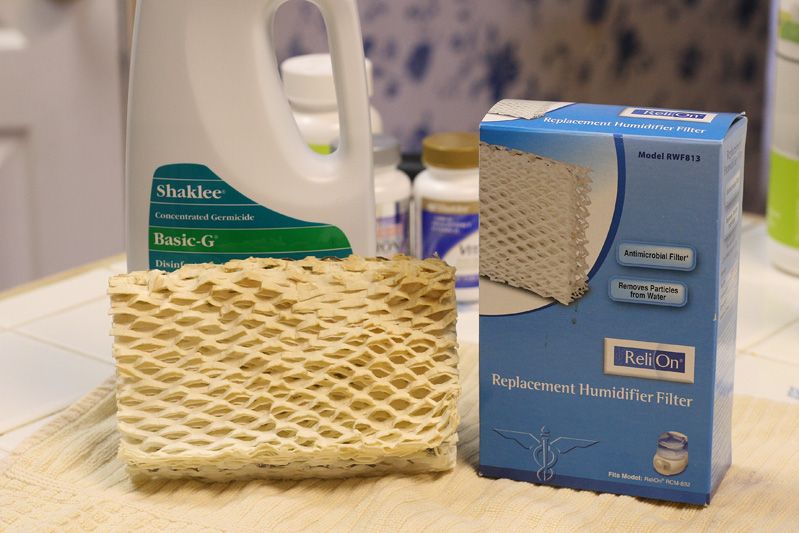 Because I run them daily, I keep a close eye on the filters. When they start to discolor and/or begin growing mold/bacteria, I replace them. The standard filters can be purchased anywhere & I always keep a few extra on hand. Rule of thumb is to replace them every few months to prevent contaminated water being released into the air. Ew.
Though it's a pain in the rear (trust, it is), I rinse/clean mine daily & refill with fresh water. I never let mine run while dry & I
never
let mine sit with water in them when not in use. I strive to keep them working effectively & efficiently. I keep the smaller units in each bedroom & the slightly larger Vicks unit in the downstairs area. I also keep a hygrometer upstairs & down, so I can monitor the moisture. I don't ever want it to reach & stay over 50%.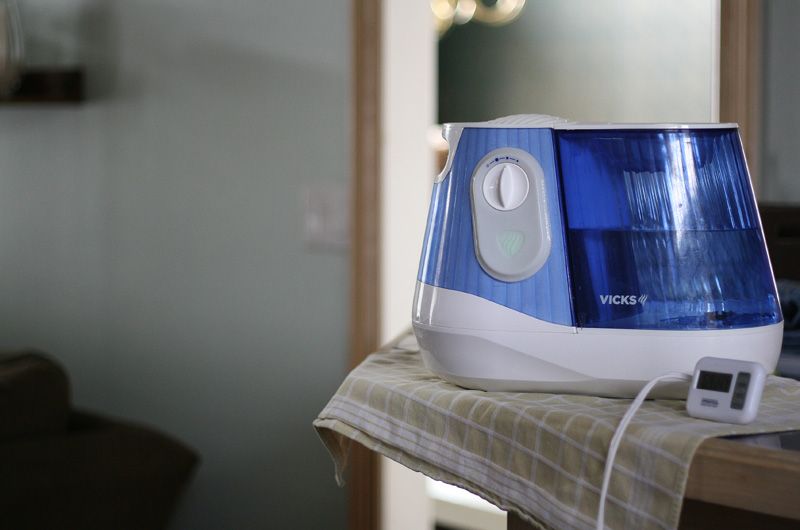 Also, you can add a bit of essential oil to your water, too, if you want your rooms to smell yummy. I haven't tried that yet, but I plan to. I love vanillas & cinnamons & soothing fragrances, so I plan to pick some of those up soon.
Being a family of 6, with 3 kids in school & the youngest in dance weekly, I think we've had a pretty mild winter concerning illnesses. A month or so ago, my husband & I got Bronchitis (we have got to take our
vitamins
consistently! Doh!) & my youngest son go it, too. His stemmed from allergies. After that, the girls & I got colds & then my husband did. My boys did not. That's it! I think that's pretty good being this is the first of January.
Between
vitamins
, humidifiers & now flu shots, everyone is healthy & has been, since the colds ended. We don't even have one runny nose. And that makes for one very happy mom!
Follow me on Facebook!
Click here!