I have never seen our Goodwill store as stocked as it was this weekend! So much super stuff! I took Bentley with me this time, so I couldn't really shop as much as I would have liked. Someone talks too much & I couldn't think. ;o)


Here is what I did purchase:

White teapot: $3.50 (no chips, nothing)
Glass vase: $2.00 (ditto)
4 books: $1.00
Wall shelf: $5.00 (very well made, little to no dents)
Total: $12.00 Ü
(As we were shopping, some lady walked up next to me & was complaining that there wasn't enough "fall and/or Halloween decorations out". Are you kidding me? Good heavens, we're at Goodwill, not Walmart! :o)
Garage sale: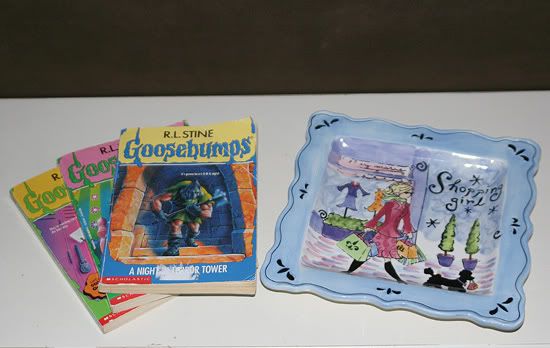 Shopping Girl plate - $1.00 (when I washed it, I noticed that the little store name in the upper left corner has the beginning of the name missing. I wasn't sure if it's supposed to be like that, or if it had worn off. I found a replica photo online & indeed, the entire name is supposed to be there. Boo! Maybe I can restore it? Heck, probably not. After all, it was only $1.00. That will drive me crazy, though, so back in the garage sale pile it goes! Ü )




Anyway...
3 books - $.75
Wooden teddy bear - $.25
Total: $2.00 Ü
I am banking on getting to Ikea this week. Lord willin' & the creeks don't rise, this week, I'll make it! Ü