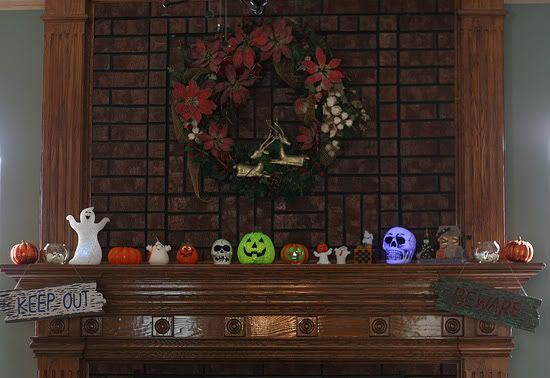 Right under my Christmas wreath! Ü


Baha! Now typically, this is not how I decorate for Halloween. Last weekend I dusted the family room, so I removed all items off of, well, everything. For whatever reason, I stuck all the Halloween decor on the mantel to get it out of the way. Later on, when I looked back at it, I thought it looked pretty cute! So I'm leaving it. :)


Oh yes, my Christmas wreath. Yes indeed, it's been up all year. Now listen. I'm only 5'2". It is very challenging for me to get that sucker up there, secure it, straighten it & fluff it every Christmas. So, after last Christmas, I left it. (I'm seeing a pattern here - first I leave the wreath & now the Halloween decor. I seem to be getting a case of the lazies. :)


This will be our 5th holiday season in the good ol' Money Pit. I cannot believe we have made it here this long. Anyway. Below is a photo of my front door:
It looks the same on the outside (except it's green. Our last home's front door was painted green too. I don't even like green - unless it's certain shades. How come I get stuck with green front doors?). Because of the glass & wood detail, I have never had success hanging any sort of wreath on the door. I've tried every type of over-the-door wreath hangers they make. To no avail. But ah hah! Today I spied this: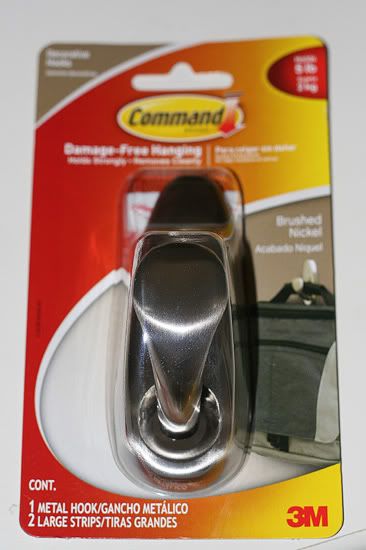 One of those no-damage thingies! And this one claims to hold up to 5 pounds! Tada! Now my other beautimous Christmas wreath can hang on the door! One can hope, anyway. I'll let you know how it goes. Ü


Lowe's has all of their Christmas decor out! I really like Lowe's. They have some great departments & home decor! Mercedes spied the Christmas trees right away. "Kissmas twees! I like the bwue ones (they were all green, not blue. But whatever.) I'z so 'cited!"


I'm ready for cold weather. I'm ready for fires & candles & all the hoopla the Christmas season brings. I ♥♥♥ Christmas! It's my most favorite time of the year. With all the decorating blogs I've discovered, hopefully I can get some new decorating ideas! And I've already bought one Christmas gift. I'm good. Ü