You know what a finicky eater I am. Very much so. So I'm only posting recipes that rock my world. This one - now an absolute favorite!
****************************************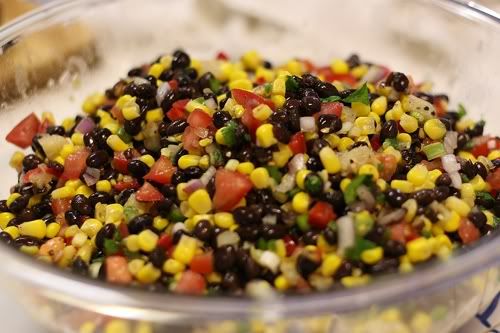 Black Bean Salad
2 cans black beans, drained, about 30 ounces.
1 (15 oz.) can corn, drained.
2 Roma tomatoes, diced.
1/4 cup diced red bell pepper.
1/4 cup diced red onion.
1/4 cup diced green onions.
1/4 cup diced pineapple.
1 tablespoon chopped cilantro leaves.
1 jalapeno, seeded & minced.
4 tablespoons sherry vinegar.
Juice of 1/2 lime.
3 tablespoons honey.
1 tablespoon salt.
1 teaspoon black pepper.
Pinch ground cumin.
Directions:
Mix all ingredients in a bowl & refrigerate for 1 hour.
****************************************
Very simple recipe. It also contains many ingredients, which I prefer. I followed the recipe to a T, except I used Red Wine Vinegar versus Sherry Vinegar & I did not double the pineapple. I also drained
and
rinsed my black beans.
I doubled the recipe because we had many guests. I served this with hamburgers on the grill, but think it would be equally as good with chicken, pork chops, etc. Everyone loved it & took home leftovers.