*Please excuse the slammed together post - Blogger is not cooperating today & will not let me insert paragraphs. Grr.
I haven't posted my Goodwill Goodies in a while. Currently I'm not going as often as I was - but someone emailed me & told me they enjoy seeing the bargains I find. So, Mercedes & I went today & here's what I found. Not much today! Ü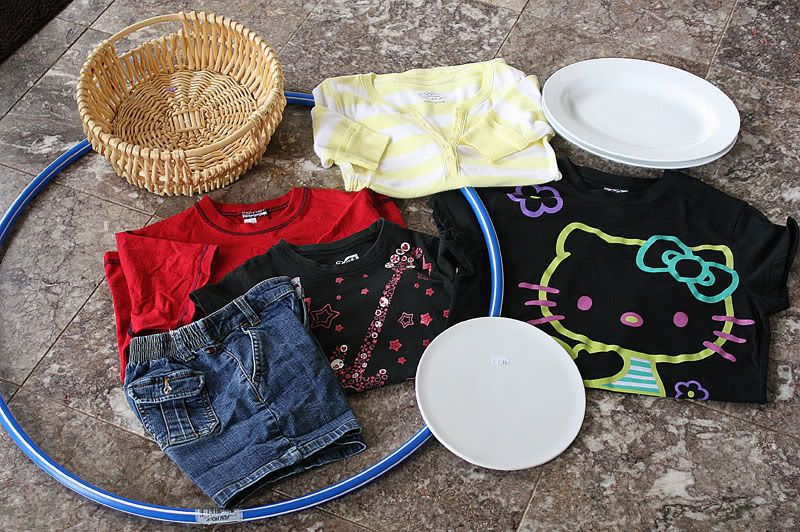 Hoola hoop - $.60 (the had a whole rack of new ones)
New Tommy Hilfiger red shirt - $1.99
Tommy Hilfiger denim shorts - $1.99
Yellow striped Justice - $2.99
New Hello Kitty - I paid too much but, it is new & cute - $4.19
Black Children's Place t - $1.99
Basket - $.75
3 white Target's 'Home' collection dishes - $2.00 for all
Total: $17.86
I've mentioned before that the Goodwill down the street from me is huge. I.e. it's in a previous grocery store. Most of the time, our Goodwill is packed & recently they have really increased their prices. It's quite ridiculous & I can always hear someone complaining. There are several items I have not purchased simply because of price. Tomorrow I will travel a little further to a different Goodwill. I've been there once before & it doesn't get the amount of traffic ours does.
Did I ever tell you I was not, not, not a Goodwill shopper? Hell-bent "no!" I have a friend who has always shopped at Goodwill & for the life of me, I could never understand why. As a matter of fact, many years ago, I distinctly remember telling my husband that I could not, would not,
ever
shop at Goodwill. My children would
never
have Goodwill clothing, let alone my home full of Goodwill finds! Appalling! Why? I was a snooty snob. The store is icky & stinky & ew, plain & simple. Fast forward to about 8 months ago. I enjoy reading decorating blogs & I quickly noticed a familiar pattern - a lot of decorators get their furniture pieces at Goodwill (at exceptional prices) & restore them into beautiful, new pieces. One day I decided to suck it up & run in to check out their furniture, since so many others were doing it. If others could browse Goodwill, then so could I. So I did. Then I went back. Heehee. The next time, I ventured into the home accessory section, simply out of curiosity. Then I went back. Again. The time after that I thought what the heck, I'll go to the boys clothing, you know, just to 'see'. And then the girls clothing. And the rest is history. To be honest, I'm quite perturbed with myself that I never shopped Goodwill prior. The brand new, or like new, brand name clothing I find is worth the trips alone. And guess what? You can wash your hands as soon as you leave & the icky smell washes right out of clothing. Who woulda thunk? Ü